Nutrition at Thrive Chiropractic and Wellness Center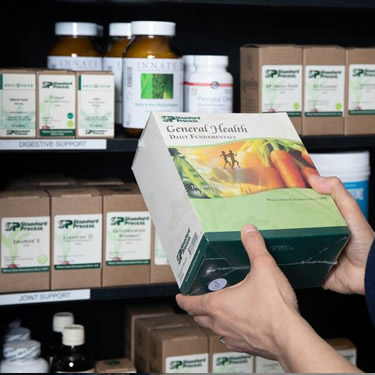 At Thrive Chiropractic and Wellness Center, we believe that good nutrition is vital to your overall health. You cannot be an active, vital, energetic person without it! Dr. Pergande has dedicated herself to extensive research and training in the field of nutrition and the ways in which your diet impacts your health.
Organic, Whole Food Products
Our office uses organic, whole food vitamins, minerals and herbs to assist in healing processes while educating and encouraging patients to live healthier lifestyles through eating whole foods, organic when possible, drinking pure water, and exercising. The foods that most of us eat in our society today are for the most part processed and depleted of their natural vitamins, minerals, enzymes and antioxidants. Therefore, supplementation with organic whole foods, vitamins, herbs and minerals are necessary to achieve optimal health.
We can help you make those good choices! Our office uses a personalized approach to help patients get well and stay well.
Our Computerized System Survey
One tool that we use is a computerized symptom survey to precisely tailor the best nutritional protocol for each individual. The body often produces many subtle symptoms long before illness and/or disease takes hold. Fortunately, we know enough about how the body works to narrow down the root nutritional causes of many underlying health issues before they become full-blown health problems by examining these little warning signals.
The patterns that emerge tell us a great deal about the nutritional health of the individual. It is by examining these patterns that the computerized symptom survey is able to address your individual nutritional needs more accurately and prevent you from wasting money on unnecessary products. This analysis is free of charge to all our chiropractic patients.
Get Started Today
Are you interested in learning more about nutrition Onalaska? Contact our friendly team today to set up your first appointment!
CONTACT US »

Nutrition Onalaska, La Crosse, Holmen WI | (608) 783-0384