About Us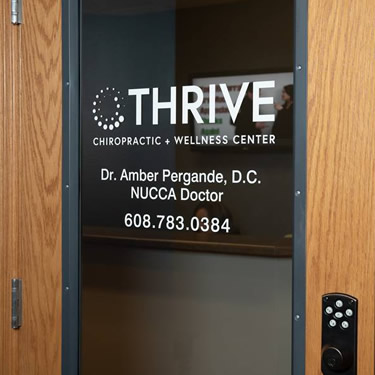 Dr. Amber Pergande opened her practice in March 2010 as Advanced Spinal Care. In 2019 we changed our name to Thrive Chiropractic and Wellness Center to better reflect our passion for providing both chiropractic care and functional nutrition services to people in the Onalaska and La Crosse communities.
It has always been our vision to have a wellness-oriented clinic where we empower our practice members to make the best health decisions for their families. We are passionate about educating our practice members and our community on all things natural health!
Our Approach
Our unique approach is founded on our Thrive Essentials. This is where we combine chiropractic care with healthy lifestyle habits to help your body function the way it was designed to!
Our Thrive Essentials are based on two simple scientific principles: give the body what it needs to function optimally and remove anything that may interfere or impede the body from doing so.
Experience the NUCCA Technique
At Thrive Chiropractic and Wellness Center, we utilize NUCCA chiropractic care to clear the nerve system of any nerve disturbance. This gentle, precise method of chiropractic care restores balance and alignment to the entre spine. It involves no popping or twisting of the neck or back.
Along the way, we'll teach you about our other Thrive Essentials, things like nutrition and sleep, so that you can make healthier choices and discover what it is like to truly be well!
Regain Your Vitality With Us
One of Dr. Pergande's patients was a mom with two young boys. Her sciatic pain was so severe that she ended up on the floor, unable to move. After seeing Dr. Pergande, the woman could hardly believe how incredible she felt. We commonly hear from our patients that not only have we helped with the problem that brought them to us, but they notice other benefits, too. You might realize you have more energy, sleep better or have an overall sense of well-being that you didn't even realize was possible!
MEET DR. PERGANDE »
Book Your Free Consultation
If you'd like to find out more, you can do so at no cost or obligation. Contact us today to schedule your consultation with Dr. Pergande!

About Thrive Chiropractic and Wellness Center | (608) 783-0384