Pregnancy Chiropractic Care at Thrive Chiropractic and Wellness Center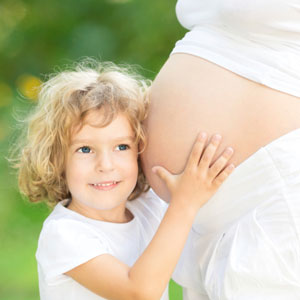 When you're expecting, you want nothing but the best for your developing baby. You eat right, exercise and stay away from medications or anything else that can harm your baby. Have you considered, though, the benefits of a fully functioning nervous system? Dr. Pergande is pleased to offer pregnancy chiropractic care to expecting moms in our area.
Chiropractic care for expecting moms can provide an array of advantages. You might find that you're more comfortable during pregnancy when you get adjusted. Studies have even shown that you'll have shorter labor times with fewer interventions than you would if you weren't under chiropractic care.
The Webster Technique
Dr. Pergande is a member of the International Chiropractic Pediatric Association and is certified in the Webster Technique. With this method, you'll lie comfortably on your stomach with a pregnancy pillow. It's gentle and precise with no popping, cracking or twisting. Our focus is on mom's comfort and allowing optimal conditions for baby to grow and develop.
FAQ
When should I start chiropractic care?
Ideally, we'd love to see you before you become pregnant! If you are already expecting, there is no limitation on when you can begin care. At any time, you're welcome to call us and book your first appointment.
Are there benefits for my baby in getting chiropractic care?
Yes. A shorter labor time is always better for baby, as it means less stress on them. They may have more space in the womb to grow, develop and get into the proper position for birth.
How will you determine what I need from chiropractic?
The NUCCA Technique involves an X-ray study which can still be done when you're expecting. The images are taken only from the neck up. You'll wear an apron over your belly for an added measure of protection.
Yes. Toddlers and youth often come to see Dr. Pergande with issues such as ear infections that can be helped by chiropractic.

Pregnancy Chiropractor Onalaska, La Crosse, Holmen WI | (608) 783-0384